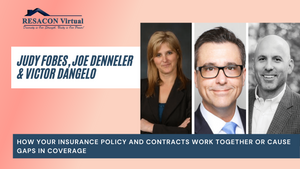 RESA HQ
RESACON 2021: How Your Insurance Policy and Contracts Work Together or Cause Gaps in Coverage - Judy Fobes, Joe Denneler & Victor Dangelo
Regular price
$110.00
$0.00
Unit price
per
RESA MEMBERS PAY $75- Log in to

 the 

Members Only Resource Area

 

to get your coupon code!
As a business owner, you will be challenged to balance the need for proper documentation (to keep your business secure) with the desire to do business nimbly. 
To ensure that your business will have the best chance to survive a potential claim or lawsuit you must first make certain you are taking the appropriate steps when taking on a new job or hiring people to help you complete a design or staging.
Let the experts at Villanova Insurance Partners, along with its team of attorneys, walk you through the basics including service contracts, subcontractor agreements, and the insurance policies that intertwine with these documents. The class will be sure to not only include many risk management tools you can apply to your practice but keys to success when planning your business safely.
IN THIS SESSION, YOU'LL LEARN:
Realize the importance and components of a good service contract.
Describe the important parts of a subcontractor agreement and why you should have one before any subcontractor steps on your job site.
Explain the reasons you want to either have a WC policy or, a strong subcontractor agreement (and insurance) from your subcontractor who may be doing work for you (i.e. moving your stage items).
*This is a digital product. Upon purchase, you will receive be emailed a PDF with how to access this session as well as any handouts from the speaker that goes with this session*
---